Look for your login information from the email you purchased with. It usually arrives in about 10 to 15 minutes.
[divider style="6″]
In the meantime let's get you started right… here's your first bonus.
[headline style="11″ align="center" headline_tag="h2″]"The 8 Roadblocks To Avoid When Learning Guitar"
[/headline]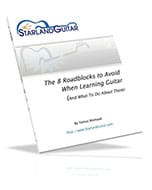 Have you ever wondered if you're learning things the right or best way possible? What if there was information that if you knew early on would save you a lot of time and bad habits that will need to be undone later?
[vertical_spacing height="10″]
Well, there is! It took me awhile, but I've put together a report that has the most important tips and advice that I wish I knew early on. If you read this and apply the advice it will save you a lot of trouble.
[vertical_spacing height="10″]
I've even created an audio version if you'd prefer to listen rather than read (call me an over achiever).In this quick and easy 19 page report (or optional audio recording) you'll learn:
 Valuable tips to make the most of your practice time that many teachers don't know.
How to avoid the most damaging bad habit self-learners develop.
Are you wondering if you're too old to learn guitar? Read this!
What is "Chatty Monkey" and why it's important?
The advantage children have when learning and how adults can take advantage of this too.
The single biggest contributor to frustration and lack of progress, and what to do about it
The second most common mistake beginning guitar students make. Knowledge is power!
How to develop the best left hand positioning that will support your progress.
How to develop the right hand technique of a pro.
What simple device can be a guitar players best friend to play in time, and how to use it properly.
Why "Quick and Easy" can often turn into "Long and Hard".
How to tap into an incredible learning tool.
What to do about a "less than perfect" instrument
Go To Real Guitar Awesomeness
(member sign in page)
[divider style="11″]

Tomas Michaud is a guitarist, recording artist, entrepreneur, music educator, and father. He is the owner and Music Director of the SF Bay Area's premier music education facility, Starland Music Center in the SF Bay Area, (StarlandMusic.com), and has taught or consulted with thousands of students over the past thirty years.
He is the author of six CDs of Contemporary Instrumental World Music, and his latest, Beauty and Fire, has consistently charted in the top ten.